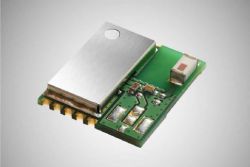 l'immagine mostrata è solamente rappresentativa

SPBTLE-RF0TR LC BLE MODULE TRAY
Produttore:
STMicroelectronics
Matchcode:
SPBTLE-RF0TR
Rutronik No.:
BTOOTH1535
VPE:
1000
MOQ:
1000
dimensioni:
MODULE
confezione:
REEL
SPBTLE-RF0TR LC BLE MODULE TRAY Descrizione
The SPBTLE-RF0 is an easy to use Bluetooth® Low Energy network processor module, compliant with Bluetooth v4.1. The SPBTLE-RF0 module supports multiple roles simultaneously, and can act at the same time as Bluetooth Low Energy master and slave device.
The entire Bluetooth Low Energy stack and protocols are embedded into SPBTLE-RF0 module. The external host application processor, where the application resides, is connected to the SPBTLE-RF0 module through a standard SPI interface.
The SPBTLE-RF0 module provides a complete RF platform in a tiny form factor. Radio, antenna and high frequency oscillators are integrated to offer a certified solution to optimize the time to market of the final applications.
The SPBTLE-RF0 can be powered directly with a pair of AAA batteries or any power source from 1.7 to 3.6 V.
Key Features
Bluetooth v4.1 compliant

Supports master and slave modes
Multiple roles supported simultaneously

Embedded Bluetooth low energy protocol stack

GAP, GATT, SM, L2CAP, LL, RFPHY

Bluetooth low energy profiles provided separately
Bluetooth radio performance:

Embedded ST BlueNRG-MS
Tx power: + 4 dBm
Rx sensitivity: - 88 dBm
Provides up to 92 dB link budget with excellent link reliability

Host interface

SPI, IRQ, and RESET
On-field stack upgrading available via SPI

AES security co-processor
Certifications:

CE qualified
FCC, IC modular approval certified
BT SIG qualified

On-board chip antenna
Operating supply voltage: from 1.7 to 3.6 V
Operating temperature range: -40 °C to 85 °C
Length

13.5 mm

Profiles

N Y/N

Antenna integra

Y Y/N

Width

11.5 mm

Firmware

GATT

Package

MODULE

Height

2 mm

Operating temp.

-40 / +85 °C

Operating Volta

1,7-3,6 V

Automotive

NO

Bluetooth spec.

V4.1

Leadfree Defin.

10

Tipo di confezione

REEL
EAR99

Numero di tariffa doganale

85176200000

Stato

South Korea

Codice- ABC

A

Tempo di consegna standard

22 Settimane