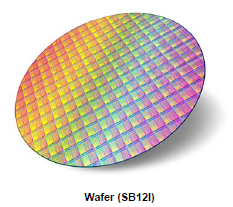 l'immagine mostrata è solamente rappresentativa

NFC IC Type4 2Kbyte WAFER
Produttore:
STMicroelectronics
Matchcode:
ST25TA16K-AB6G3
Rutronik No.:
ICRFID1514
VPE:
1568
MOQ:
2503
dimensioni:
Wafer
confezione:
REEL
NFC IC Type4 2Kbyte WAFER Descrizione
ST25TA16K
NFC Forum Type 4 Tag IC with 16-Kbit EEPROM
The ST25TA16K device is an NFC tag IC embedding an EEPROM memory. It can be operated from a 13.56 MHz RFID reader or an NFC phone.
The RF protocol is compatible with ISO/IEC 14443 Type A and NFC Forum Type 4 Tag.
Key Features
Contactless interface

NFC Forum Type 4 Tag
ISO/IEC 14443 Type A
106 Kbps data rate
Internal tuning capacitance: 25 pF

Memory

2-Kbyte (16-kbit) EEPROM
Supports NDEF data structure
Data retention: 200 years
Endurance: 1 million erase-write cycles
Reads up to 246 bytes in a single command
Writes up to 246 bytes in a single command
7-byte unique identifier (UID)
128-bit password protection
Type

IC

Oper.frequency

13,56 M Hz

Mode

R/W

Memory

2K Bytes

Oper.temp.

-40 to +85 °C

Storage temp.

15 to 25 °C

Automotive

NO

Package

Wafer

Leadfree Defin.

10

Tipo di confezione

REEL
EAR99

Numero di tariffa doganale

85423275000

Stato

Philippines

Tempo di consegna standard

18 Settimane